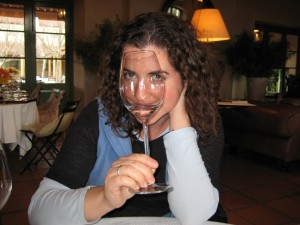 A few ex-pats of the theater have (re)entered my life of late. So have some notoriously hard to shake habits.  The former hasn't provoked the latter, but it has inspired a theatrical metaphor (and a public timestep or four).
I'm struggling with boundaries, striving (and lately, failing) to discern the limits between transparency and oversharing, relating and overidentifying, performing my front region role vs. overexposing my backstage sweating (Goffman, 1959). To cast it in terms of the theater, I don't know how to light my scrim.
A scrim is a piece of material that boasts the following phenomenal qualities:
A scrim will appear entirely opaque if everything behind it is unlit and the scrim itself is grazed by light from the sides or from above.

A scrim will appear transparent if a scene behind it is lit, but there is no light on the scrim.
How much do I show? When? To whom? And for whose benefit? Is it selfish to let it all hang out, an irresponsible liberation of self from the burden of exercising judgment? Is it courageous to tell the whole truth, a risk to place faith in both parties involved? Is it generous to surrender the keys to the castle, a magnanimous invitation for the other to feel at ease?
And what are the consequences of this permeability? How, if at all, does this fickle wall leave me ill protected? Sometimes, you can see right through a scrim, even when a spotlight's shone on its face. Sometimes, pulling a solid curtain at just the right time is better for all parties involved — respects both privacy and surprise.
We talked about Les Miserables (Les Mis) last night. I saw the show in 5th grade at the Chicago Auditorium Theater and it changed my life. Truly. We also performed a concert version at Glenbrook South High School and I was cast as one of the narrators… I was so proud. If memory serves, that 1989 production of Les Mis had a scrim. I think that all of the villagers were frozen behind it at the top of the show, during the initial scene where Jean Valjean is graciously abetted by the priest from whom he stole…
Like me, Jean Valjean also grappled with a moral conundrum. While his problem was more cut-and-dry (steal bread vs. let his family starve), he still paid for his "crime." Right and wrong isn't always black and white (is it ever even mostly black and white?); it's shades of gray. How does his wrong stack up relative to his right? How does mine? And how, like Valjean, will I learn from my transgression and try, in the future, to do right as much as possible? Valjean became a mayor, philanthropist, and adoptive parent, finally dragging Marius through the sewers of Paris to please the lovely Cosette (sorry, Eponine, you're on your own).
What will be my penance? My legacy? And how will I maximize the potential of porousness? Theoretically, one of its greatest assets is its capacity to let go. Yet I'm remarkably bad at that, at least as far as personal exculpation is concerned. Let myself off the hook? Not if I can get in two solid days of intestine-knotting first!
So how do I stop singing the same old song, tapping the same old step? How do I jumpstart my rhythm, become the triple-threat I've always dreamed of? And to what extent do I need to consciously critique vs. peacefully accept vs. obliviously overlook?
I need better walls and better releases. I need to emulate the character of Jean Valjean, avoid the role of Jean Dujardin, and maybe, like Ginger Rogers, do it backwards and in heels…
P.S. This photo is thematically rather than chronologically appropriate. It was taken by my dear friend Mark in South Africa, 2007.