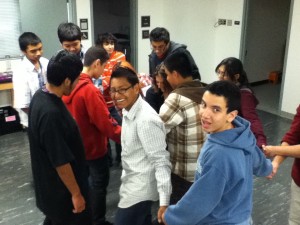 As I tore apart my computer in search of texts to enrich my article for Learning, Media, and Technology, I found this piece which I delivered (or didn't — I have a habit of jumping off-book and riffing in front of a live audience) before the Academic Affairs Committee of the Board of Trustees on April 15, 2011.
I've always wanted to make the world a better place, and thought that the way we raise children is central to any/all such undertakings. As an undergraduate at Northwestern University, I studied Education & Social Policy, with minors in political science and French. I did original, on-site research for my honors thesis, visiting child care centers in Paris, Oslo, and urban Chicago. I reviewed the way each culture balanced the social-emotional and the cognitive — Were they tensions in opposition? Were they intertwined partners?
Spongebob Squarepants got me to graduate school. My friend Jenn and I were babysitting a bunch of five-year-olds and, while we happened to be on the street of a housing project in Boston, I suspected that this scene could have unfolded anywhere in America, maybe anywhere around the world…
Here we go round the mulberry bush… the ice cream truck chimed. My friend Jenn asked the kids what they wanted.
"Spongebob!" they cried, eyes glued to the image of a frozen treat shaped like he who lives in a pineapple under the sea.
"They're out of Spongebob," Jenn explained patiently. "What's your next choice?"
"Dora!"
POP! Goes the weasel!
That'd be Dora the Explorer, another children's TV character who the youngsters could ice cream-ily cannibalize. Now, I'd been a kid who worshipped at the electric fireplace, effortlessly memorizing movie & TV dialogue, gobbling books, acting in plays. But I always, ALWAYS, had firm ideas about chocolate and vanilla. Was something different going on here?*
I started out by looking at the extent to which young people interacted with electronic media, analyzing children's media content according to unsavory themes, like aggression, materialism, xenophobia, and stereotypical gender roles, which I continued at USC. Then I became interested in influencing the content itself, first through disseminating research to studios with Dr. Stacy Smith, then by supporting entertainment-education efforts with Dr. Sheila Murphy and Hollywood, Health & Society. From there I became interested in what people do with the content, and that's what led me to Dr. Henry Jenkins and, in a sense, brought me back to square one. How do we make the world a better place, shift the way we raise children, address the social-emotional and the cognitive?
This skills-rich approach seems the way to go, in my opinion. Not only is each person, each community, and each moment in time distinct, but people hate being told from on high what to do. It doesn't make sense to come up with one fixed set of solutions, one "universal" plan, and tell every person out there to do it. It just doesn't work. But let's say you help them to develop skills, fundamental capacities for diverse application. Then individuals' and communities' possibilities are limitless. They can realize their own potential, and build their own solutions that reflect their unique circumstances.
At RFK Community Schools, via the Explore Locally, Excel Digitally after-school program, I'm helping those skills to take hold. The skills pertain to social-emotional competence (SELs; self-awareness, self-regulation, social awareness, relationship skills, and responsible decision-making), and new media literacies (NMLs; defined as "a set of cultural competencies and social skills that young people need in the new media landscape" (Jenkins, Clinton, Purushotma, Weigel & Robison, 2006, p. 4)). Despite the words "new" and "media" in their label, NMLs are neither new nor exclusively for or about media. They're especially useful in the context of new media, but they're fundamental, time-honored, digitally agnostic skills. They're about enriching learners with useful, versatile capacities that help them think sharper, work better, and appreciate fuller the ethical ramifications of their actions.
---
As thirteen-year-old me once sang in Beaver Dam, Wisconsin, playing the role of Mrs. MacAfee in Harand Theater Camp's summer 1993 production of
Bye Bye Birdie
, "I don't know what's wrong these kids today!"