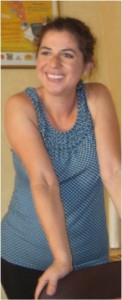 I am an eager learner, critical thinker, and sensitive communicator with a fervent desire to do work that matters. I believe in the value of inter-disciplinary collaboration for building, remixing, and extending theory, and for constructing comprehensive, practical responses to multi-faceted, real world challenges. Here is a brief explanation of my current projects:
Joint Educational Project (JEP)
In 2012, Laurel joined the staff of the USC Joint Educational Project (JEP). One of the oldest and most celebrated service-learning programs in the country, JEP was hailed by the 2000 TIME/The Princeton Review College Guide as "the most ambitious social-outreach program of any private university in the nation" (Hornblower, 2000, p. 71). In her role as Research Assistant & Instructional Design Specialist, Laurel investigates the diverse outcomes of service-learning participation, creates curriculum to scaffold reflection and facilitate transfer of 20+ courses' specific content, supervises a media literacy outreach program, and mentors six undergraduate peer educators who collectively support 250 service-learners.
Laurel's dissertation includes ethnographic research, needs assessment, curriculum design, experimentation, and evaluation of a tailored, optional, online, self-guided training experience for JEP mini-course members.
Participatory Action Research (PAR)
This research, currently in its formative phase, utilizes a participatory action research (PAR) design; as such, Laurel is working with a talented team of undergraduates: Jodie Guller, Ashley Harlow, and Shivika Poonglia, all former participants of the JEP mini-course program. She is also reaching out to other stakeholders, including mini-course members, LAUSD host teachers, LAUSD schoolchildren, and JEP full-time staff, in order to ensure buy-in and external validity.
Other Significant Research
From 2010-2012, Laurel was lead research assistant with Project New Media Literacies's applied research project, PLAY!. This project (based out of USC's Annenberg Innovation Lab and funded by The Gates Foundation) explored how best to nurture play and participatory learning in high-tech, low-tech, and no-tech contexts.
See Felt, Vartabedian, Literat, and Mehta (2012); Vartabedian and Felt (2012); Reilly, Jenkins, Felt, and Vartabedian (2012); Reilly, Vartabedian, Felt, and Jenkins (2012).
During the second half of 2012, Laurel also worked part-time for USC Shoah Foundation – The Institute for Visual History & Education. As the Interim Instructional Design Coordinator, Laurel built developmentally-appropriate, critical thinking-oriented, multi-media rich curricula for IWitness, an online application that allows secondary school students and teachers to search, watch, and interact with more than 1,000 video testimonies of genocide survivors and other witnesses.
See Cole, Street and Felt (in press).
Since 2011, Laurel has consulted with Laughter for a Change, a non-profit whose improvisational theatre workshops in underserved communities share the joys and benefits of comedy.
See Felt and Greenberg (in press).
In 2010, Laurel designed a new pedagogical method and curriculum for training Senegalese youths in effective communication, dubbed Sunukaddu 2.0. On-site in Dakar, she conducted professional development, wrote curriculum, designed assessments, engaged in participant-observation, and analyzed data. She continues to consult with this non-profit.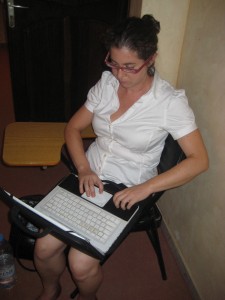 For a narrative about where I came from and how I got here, read on, read on…
My research in general, and upcoming dissertation in particular, is the product of my engagement with several diverse research traditions. Undergraduate studies of social policy, political science, and French, both in the classroom and in applied contexts, revealed the significance of cultural difference as well as humanity's fundamental commonalities. Following my junior year in Paris, I yearned to examine pedagogy and social and emotional learning (SEL) across diverse contexts. My honors thesis analyzed original interviews with early childhood educators in Norway, France, and the United States in order to discover how these professionals performed and understood their roles in terms of education and caregiving.
I went on to apply theory to practice, becoming an early childhood educator myself. Over the next four years, I explored, hands-on, how one might negotiate the tensions between formally educating and warmly caregiving. In my classroom, I emphasized SEL, and across the greater Boston region, I trained colleagues in methods of introducing conflict negotiation skills to their students. While earning a Master's degree in child development, I worked in a laboratory school whose appropriation of the Reggio Emilia method significantly influenced my framework. Media literacy also figured prominently in my life. I published with a media literacy/advocacy organization, led parent workshops, and examined the educational potential of several children's television shows. My Master's thesis returned to the topic of social and emotional learning but situated it within the contexts of adolescent development and media manipulation. I gathered survey and focus group data from adolescent girls at four middle schools, looking at their communication via instant messaging and focusing on the pervasiveness of online and offline social aggression.
In terms of communication, I honed my skills as an award-winning impromptu and extemporaneous speaker (1994-1998), college journalist, co-creator/producer/director/writer of an innovative web series, and writer/editor of educational print products. Participation and performance in improvisational comedy also enriched my communication skills and influenced my understandings of pedagogy and collaboration.
As long as we care to better support our children's healthy development and expand their opportunities, there will be work for me to do, and I will want to do it.