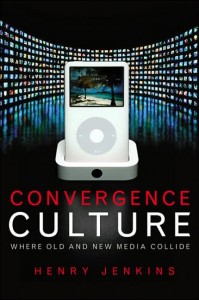 Thursday, March 22, 2012, was the inauguration of the USC Annenberg School of Communication & Journalism's Dean's Open Forum: One School, One Book. Dean Ernie Wilson chose to explore Henry Jenkins's seminal 2006 Convergence Culture: Where Old and New Media Collide.
At the event, Henry discussed the the context in which he wrote this book and reflected a bit on its relevance six years post-publication. He also invited four of his students — Francesca Marie Smith, Kevin Driscoll, Meryl Alper, and myself — to speak about the book's impact(s) on our scholarship and the research we're currently conducting.
Francesca talked about disability rhetoric and the utility of fan culture/writing around Batman's the Joker for demystifying mental illness.
Kevin, a member of the Civic Paths research group, discussed a couple of cases in which fans leveraged both their mutual passion for making music and the affordances of networked information and communication to fight for their rights.
Meryl discussed her work with Flotsam, a children's transmedia play experience that enables story creation, telling, and re-telling across multiple analog and digital media platforms.
And I explained my motivations for doctoral study and the philosophies and projects that constitute the PLAY! program. In the video embedded below, I speak from 16:15-23:30.

Here are my notes:
-"all sides want to claim a share in how we educate the young, since shaping childhood is often seen as a way of shaping the future direction of our culture" (p. 177)
-"…what rights we have to read and write about core cultural myths–that is, a struggle over literacy. … We may also see the current struggle over literacy as having the effect of determining who has the right to participate in our culture and on what terms" (pp. 176-177)
-Youth were motivated by their passions to engage deeply. A yearning for creativity may have stoked their passion, and the communities and processes in which they engaged were certainly creative. Colearning occurred organically as they sought information, mutually struggled to realize their visions, and shared the roles of learner and mentor. Their passions and these communities seemed relevant to them, hooked into their identities and goals, delivering a meaningful reward. As such, youths connected this experience to their larger learning ecosystems in such grand ways as the Harry Potter Alliance, where they applied the morals from that world to the injustices in ours, attempting to act as Dumbledore's Army in stamping out manifestations of the Dark Arts like illiteracy and exploitation, and more "modest" ways, like talking about Harry Potter at home and bringing one's personal experience into fandom (as in youths' profiles on The Daily Prophet).
-these are the CPLs: motivation & engagement; creativity; colearning; relevance; and learning ecosystem
-"more and more, educators are coming to value the learning that occurs in these informal and recreational spaces" (p. 185); "Gee and other educators worry that students who are comfortable participating in and exchanging knowledge through affinity spaces are being deskilled as they enter the classroom" (p. 192)
-conclusion of CC also mentions a participation gap (which is "the unequal access to the opportunities, experiences, skills, and knowledge that will prepare youth for full participation in the world of tomorrow" (Jenkins, Purushotma, Clinton, Weigel, & Robison, 2006, p. 3)) — "… we need to confront the cultural factors that diminish the likelihood that different groups will participate. Race, class, language differences amplify these inequalities in opportunities for participation" (p. 269)
-So, we at PLAY! are trying to support the adoption of these best practices from informal spaces into formal spaces
-we have begun by:
ELED: running a youth program that relied on the CPLs and digital citizenship (Explore Locally, Excel Digitally);
SS & POTB: then leading a two-part professional development workshop for LAUSD teachers in participatory learning and play (Summer Sandbox and PLAYing Outside the Box);
PLAYground: asking teachers and their students to alphatest an online, multimedia platform for participatory learning that bridges to transmedia experiences ;
PLAY! On workshops: simultaneously supporting teachers' applied experiences of playful learning and technological exploration (PLAY On! workshops); and
Laughter for a Change: extending this experience back to students and educators alike in an afterschool improvisational theater workshop
-"…role-playing both as a means of exploring a fictional realm and as a means of developing a richer understanding of the yourself and the culture around you" (p. 185)
-OVERALL, we have a healthy respect for games and voice; we hope to create ourselves and encourage our colleagues to co-configure with students a non-hierarchical culture in which it's safe to be who you are, try, fail, reflect, and keep on going
Here is a series of images that ran in the background as we spoke, illustrating themes of participatory culture. And here are our collective notes:
Questions to Consider
About the Book
What do you see as the most important new developments in media since 2006 when Convergence Culture was published? Which of the emerging trends identified in the book blossomed, and which of its predictions came true? What needs to be adjusted in the book's argument based on subsequent developments? If you could add a new chapter to the book, what would you talk about?
How might the growth of social media impact the book's core themes?
How do you think convergence culture and spreadable media models are contributing to shifts in journalistic practices and also to how we talk about journalism?
Do you think that convergence culture and spreadable media have altered the nature of what it means to be a public figure, locally and globally? If so, how? (e.g., how one becomes a public figure, how one maintains their public image, how one becomes a public figure while attached to a story they might not want to be publicly associated with)
Reflect on enduring phrase "the whole world is watching" from Chicago in 1968, Jenkins asks in Convergence Culture, "Is there any place on the web where the whole world is watching?" (p. 211). How might we compare the livestreamers at the Occupy Wall Street protests to the protestors at the 1968 political conventions?
What similarities or differences might we see between fans "spoiling" Survivor and the impact that WikiLeaks and Anonymous have had on contemporary politics? Are there other political ramifications of convergence culture beyond what's described in the book that we might talk about?
One recurring idea in Convergence Culture is the "Black Box Fallacy": "the attempt to reduce convergence to a purely technological model for identifying which black box will be the nexus through which all future media content will flow" (p. 280). Is this fallacy still in play? Where have you seen it recently? Can we identify material effects of this ideology in the products and services available to us today? (Think about Netflix, Apple TV, or Xbox Live…)
Reflecting on the election in 2004, Jenkins wrote that "candidates may build their base on the internet but they need television to win elections" (p. 213). Is this still true in 2012? What is the relationship of broadcast media to the internet so far in this year's election?
Jenkins writes, "For some, the concern is with the specific content of those fantasies—whether they are consistent with a Christian worldview. For others, the concern is with the marketing of those fantasies to children—whether we want opportunities for participation to be commodified. Ironically, at the same time, corporations are anxious about this fantasy play because it operates outside their control" (p. 205). So, various adults with different agendas are struggling to control youths' experience. This suggests that such a thing can be controlled, and that youths need adults to play the role of cultural gatekeeper because youths lack the strength or skepticism to resist "harmful" influences. What do you think of such a position? First, is it possible to shape (or even predict) youths' experience? Second, is "protection" for youths best achieved from adults' censorship or adults' guidance?
About Yourself
Are there stories that you consume across media?
Do you watch television on a television set or on your computer?
How do you think YouTube shapes the way that you assess and value information? How do you think you shape your own YouTube experience? How are these two forces complementary or contradictory?
Do you pass along YouTube videos to others? If so, which videos have you wanted to spread?
What forms of popular culture are you a fan of? What does being a fan mean to you?
How, if at all, have you been affected by the push/pull between consumers and producers of popular media products? Have you illegally downloaded music or movies? Scored your own YouTube videos with copyrighted songs?
Jenkins discusses a then-emerging concern over the shift from Thorburn's "consensus culture" to de Sola Pool's "communication niches" (or Negroponte's "daily me" or Sunstein's "echo chambers" or "digital enclaves") (pp. 236-237). Jenkins writes, "Sunstein's arguments assume that Web groups are primarily formed around ideological rather than cultural axes. Yet, few of us simply interact in political communities; most of us also join communities on the basis of our recreational interests" (p. 238). He adds, "We need to create a context where we listen and learn from one another. We need to deliberate together" (p. 239). Do you have spaces in your life for listening and learning with people from different political points of view? Where do you find them?
Many teachers complain that youths' adoption of digital norms has harmed their writing skills, specifically in terms of their spelling and grammar. But Chapter Five paints a different story vis-à-vis writing development. Have you ever experienced a similar phenomenon as Heather and Flourish—growing as writers, but also as responsible and responsive community members—due to reading and writing emails, Facebook notes, blogs, fan forum posts, etc.?
About Annenberg
Jenkins writes, "These kids are passionate about writing because they are passionate about what they are writing about. To some degree, pulling such activities into schools is apt to deaden them because school culture generates a different mindset than our recreational life" (p. 194). What do you think about this? Damned if you do, damned if you don't? Have you ever had an experience at ASCJ in which you were able to work on a passion project, where interest in the subject dictated the extent of your participation (as opposed to consideration of grades/rubrics/etc.)? If so, what happened? What occurred in terms of the hours you put in relative to other projects, your feelings about working on this particular project, your relationship with the passion, and outcomes after turning it in? How can ASCJ encourage professors and create curricula that allow students access to their passions without deadening their recreational quality?
Convergence Culture declares, "Schools impose a fixed leadership hierarchy (including very different roles for adults and teens)" (p. 193). What are the assets and drawbacks of such a hierarchical configuration? Is it useful or obsolete in this "world of constant change" (Thomas & Seely Brown, 2011)? Should merit, passion, or some other trait dictate leadership? Should classrooms be staging grounds/practice arenas for students to prepare for leadership?
Have you ever taught an adult how to do something? Has this ever occurred in the classroom? What happened and how did it feel?
To what degree does the mix of expertise in Annenberg help to prepare students for a convergence culture?
Have the trends we are discussing impacted the relationship between faculty and students? Have they impacted the ways researchers interface with the larger public?
What roles should academics play in relation to the entertainment and news industries they study?
What ideas from the book might help us have better classrooms? Better jobs after USC?
What skills would you want to make sure every Annenberg student has mastered by graduation (perhaps drawing from the list on p. 176 as a starting point)?
Students in the past were expected to master medium-specific skills and knowledge. Now, many of you will work across many media in the course of your careers and often will be working at the intersections between different media and industries. What should Annenberg be doing to give you the flexibility you need to navigate this unpredictable path and get access to jobs that may not even have names yet?